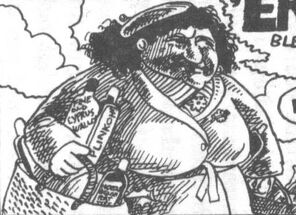 Mrs. Honoria Cornelius
, sometimes called
Mrs. C
, is the mother of
Jerry
,
Frank
and
Catherine Cornelius
. She is a hugely fat, red-faced woman who is promiscuous, crude, eats and drinks excessively, and is often very frank to the point of insult and bad manners. According to
Colonel Pyat
, her lover and life partner for the later part of her life, she was stunningly beautiful in her youth. She has been with many lovers, and claims to have gotten something out of all of them, but she has always kept the surname of the father of her children.
Mrs. Cornelius died in 1975, refusing to tell her son Jerry her age, and thus she passed away without his ever knowing how old she was. According to Colonel Pyat, who was born in 1900, Honoria Cornelius was about the same age as his uncle's sevant, Wanda, who was stated to be a year older than Pyat. This means that Mrs. Cornelius was somewhere around 76 or 77 years old at the time of her death, and giving an approximate birth date of 1898 or 1899.
Michael Moorcock has stated that Mrs. Cornelius is his favorite character.
Ad blocker interference detected!
Wikia is a free-to-use site that makes money from advertising. We have a modified experience for viewers using ad blockers

Wikia is not accessible if you've made further modifications. Remove the custom ad blocker rule(s) and the page will load as expected.